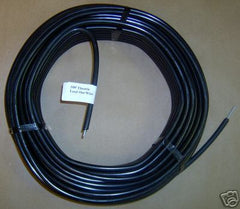 Fence Charger Leadout Fence Wire 100'
BUY HERE!
100' Underground Lead Out Cable
Insulated with 12.5 gauge galvanized wire

Use underneath gates to maintain charge, as 

a leadout wire, to connect fence wires in all live

 

ground systems, and to connect charger to fence 

line.

1-year warranty, black, 100' roll
Use it to run both hot and ground wires from the energizer, to the fence and ground bed. It can also be used when two wires are needed under gates and is great for any ground return or bi-polar fence system. Our Lead-Out has a UV-stabilized sheath, 12.5 gauge soft steel wire and is designed for direct burial. We recommend you run any lead-out through a plastic pipe for under gates or other high traffic applications.