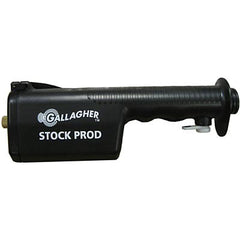 Gallagher SG240 H.D. Cattle Shock Stick Energizer
BUY HERE!
GALLAGHER SG240 HEAVY DUTY CATTLE SHOCK PROD HANDLE ONLY
*Shafts sold separately
---
Features
Strong, safe instant power
Be in control while working with livestock
Lightweight and well balanced
Specially designed to work on both wet and dry animals
Water resistant
Water sealed battery chamber
Disposable batteries included
Safety wrist strap with button locking clip
Three removable shaft lengths available (55cm, 82cm and 107cm lengths – includes handle).
 
Warranty:
1 Year
Colors:
Black
Product Code:
SG-240